Borderwars

May 19-21 in 2023!
New Location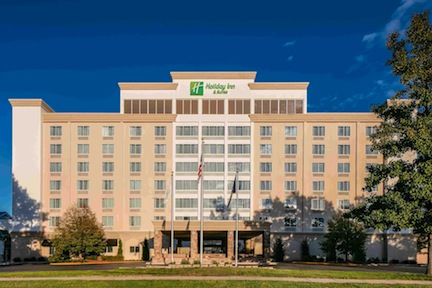 now at the lovely Holiday Inn Overland Park West
at 8787 Reeder St, Overland Park, KS 66214
Everyone who stays a night at the hotel,
get's a free membership in HAHMGS!
---

Borderwars is the yearly convention of the Heart of America Miniature Gaming Society.
A three day event for all kinds of historical, fantasy and Sci-Fi Miniature gaming
as well as card and board games. All are welcome, and it doesn't cost anything to visit!
---
DEALERS so far...
Terrain Station!
George Knapp
Good Old Weird Harold's Old Boardgames
Buck-a-Fig
Dead Man's Figs
Put on a game at BW22 and get one days admission comped. Two games, get the weekend!
The hotel only has 6 foot tables, so if you MUST have 8 footers, you must give us advance notice.
We're also looking to add some tournaments. Tournament directors get two free passes and prize support.
Contact HAHMGS to put on a game, tournament or be a vendor.
FOOD!
The hotel restauarant is open 6-10am and 5-10pm. And has a full bar.
Plus you're right there on 87th street, restaurant row.
---
Games at Borderwars 2023
Contact HAHMGS to put on a game at the show.
Our theme for 2023: POST-Modern Warfare
We can't just keep calling everything after WWII the Modern period. it's almost 80 years long!
POST-Modern is hereby declared to be anything in the 21st century. And that covers a lot of ground.

All games and times subject to change. And how!
Games will Run Friday Evening, Saturday Morning, Afternoon and Evening & Sunday.
Games so far...
George Knapp's Hastings 1066
The Great Northfield Raid - The James-Younger gang robs the First National Bank in Northfield Minnesota. The gang must make their getaway under a hail of bullets from local towns people. 4-6 players, Fast play Ruthless rules.
Crecy/Agincort with Raven Feast Large Battles rules.
AXIS & ALLIES GLOBAL 1942
Battletech Miniatures
Golan Heights 1967
Ogre Miniatures
WWII: the Great Escape
Epic Scale Napoleonic
Ukraine 2023
Yom Kuppur War
CHECK BACK FOR DATES AND TIMES AS GAMES ARE UPDATED
BORDERWARS 2023 ADMISSION:
$5.00 OFF WITH STUDENT/MILITARY I.D.

HMGS/RPGKC MEMBERS:

1-Day Pass - $20.00
Weekend Pass - $30.00
HAHMGS Member's Kids under 16 - get in free!

NON MEMBERS:

1-Day Pass - $25.00
Weekend Pass - $40.00
Kids under 16 - $5/10 1-day/weekend
HMGS Membership -$15. Get the HMGS rate at HMGS (and other) shows nationwide!

Everyone who Reserves thier hotel room thru the Toy Sojer link here, gets a free membership in HAHMGS!